What's New, Scooby-Doo?
What's New Scooby-Doo? #6: Monster Matinee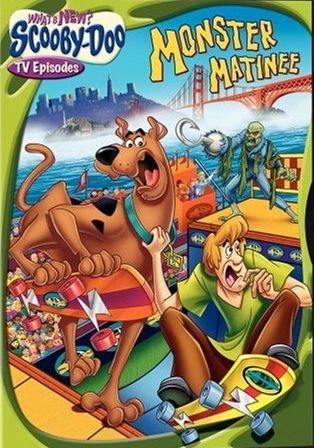 Warner Bros. (2002)
Animation
USA | English | Color | 1h 28min
It's a scream when rock band KISS plays Banning Junction's 100th-Anniversary Halloween Party in A Scooby-Doo Halloween. Before scarfing up all the candy, the Mystery Inc. gang tries to scare up some nasty celebration spoilers. The legendary San Franpsycho snatches a champion skateboarder on notorious Alcatraz Island. Scooby-Doo and crew much catch some big air - and a scar-covered ghost! In New Mexico, Old Monster, Scooby-Doo and good buddy Shooby-Doo solve the mystery of the flying Wakoomee Beast. On a visit to Japan, Shaggy's Big Appetite in Little Tokyo leads him to devour a cursed pizza that turns his dreams to nightmares when he becomes the Shagzilla who devours Tokyo!
---
| | | |
| --- | --- | --- |
| | Frank Welker | Scooby-Doo / Fred / 14 Carot / 14-Carat / 14-Carot / 30 foot Shaggy / Baseball Spectre / Dinosaur Sp |
| | Casey Kasem | Shaggy |
| | Mindy Cohn | Velma Dinkley / Tourist's Daughter |
| | Grey DeLisle | Daphne / Daphne Blake / Bling-Bling / Chrissie / Cell Phone Voice / German Mom / Lorelei Leland / Ma |
| | Jeff Bennett | Burglar #1 / Charles 'Crunchy' Granville / Earnest Bailey / Feta Cheese Vendor / Fritz / General Nes |
| | Dee Bradley Baker | Flax / Announcer / Assistant Director / Bull Brassman / Crusty McPete / Faceless Phantom / Fish Fien |
| | James Arnold Taylor | Burr Batson / Dr. Laslow Ostwald / Frankie Martin / Guy L'Avorton / Moto X Guy #2 / Owen DeCassle / |
| | Jennifer Hale | Knox / Maize / Bus Press / Dr. Joan Goodfew / Gooey-Oh Creature / Honey Hunsecker / House Computer / |
| | Colleen O'Shaughnessey | Jingle / Celia Clyde |
| | Steven Blum | Melbourne O'Reilly / Guide / J. T. Page / Rama Yam / Rufus Raucous / Spencer Johnson |
| | Tom Kenny | Band Member / Clown House / Cougar Forest / Fair-Haired Boy / Happening Farmer / Harry Harrison / Ja |
| | John Di Maggio | Dragon / Judge / Malachi Crunch / Mike Fury / Officious Dwarf / Policeman / Sanfran Psycho / Taylor |
| | Kevin Michael Richardson | Announcer / Bruce Wilkenson / Henry Hunsecker / Lloyd Mbuku / Passenger 1 / Red Guy / Safari Member |
| | Kimberly Brooks | Backup Singer #2 / Elliot Binder / Elliott Binder / Janet Lawrence / Luna / Phylidia Flanders |
| | Lauren Tom | Backup Singer #1 / Heather Lane / Mandy Dinwiddie / Nancy Chang |
| | Fred Tatasciore | Cat Creature / Clyde - Camp Director / Skeleton / Toxic Terror |
| | Rob Paulsen | Avery Orenthal / Government Agent / Guard / PA Announcer / Pan Flute Player / Puny Guy / Ripley / Tr |
| | Daran Norris | Camel Sam / Cowardly Lion / Mr. Reed / Sheriff / Tourist Dad / Ugo DiRinaldi & Shopkeeper |
| | Nick Jameson | Lysander Demas / Rebel Canyon / Richfield / Scary Looking Man / Stu Fortescu |
| | Tara Strong | Alexandra Viggi / Joe / Terry / Trudy Lowe |
| | David Warner | Old Man / Oldsy |
| | Eddie Deezen | Gibby Norton |
| | John Stephenson | Bob Taylor / Zelig |
| | Stacy Keach | Harold Lind / The Mayor |
| | William Schallert | Farmer P. / Neville Popenbacher / Professor Pomfrit |
---
Director
Chuck Sheetz
Scott Jeralds
Russell Calabrese
Tim Maltby
Joe Sichta
Tom Mazzocco
Swinton O. Scott III
Tae Ho Han
Heechul Kang
Guen-Sik Song
Writer
Joseph Barbera, Tom Sheppard, Chris Brown, Mark Turosz, Dwayne McDuffie

,

Ed Scharlach, Tom Minton, Nahnatchka Khan, Jordana Arkin, Jonathan Collier, Matt Wayne, James Krieg, Bill Canterbury, George Doty IV, Bill Culverius

Producer
Joseph Barbera, Chuck Sheetz, Ed Scharlach, Sander Schwartz, James Krieg

,

Margaret M. Dean, Toshiyuki Hiruma, Howard Schwartz, Kathryn Page, George Doty IV, Tammy Davis, Mary Parkinson, Jihyoung Bae, Michael Diaz, Marci Gray, Jacqueline Olsommer

Musician
John D'Andrea, Cory Lerios, Gigi Meroni, Rich Dickerson
---
Editions
| Barcode | Format | Region | Released | Edition |
| --- | --- | --- | --- | --- |
| 014764278520 | | 1 | Aug 09, 2005 | |
| 883929145119 | | | | |
---
---